Chemo #3 was yesterday so today am riding the steroid high of the dex today. Being the scientist data nerd that I am, this is what the first two cycles looked like:
Day 1 (chemo day) – day 4: High energy but crashes in the evening if I push it too hard physically or mentally.
Day 5: Boom, low energy. Day for Andy to take the kids skiing and for me to lay on the couch watching moronic TV shows – happy to take recommendations. I can't even read on this day due to the chemo fog but I do still manage to drag my lead-weighted body around the block for a half hour with the rest of the 80 year olds in my neighbourhood.
Days 6 – 9: Low to moderate energy, lots of knitting and watching movies and eating_all_the_things. If you want a toque just let me know, I'm a knitting machine during these times.
Days 10 – 14: Pretty much normal-me level of energy. I fight restlessness by long hikes in the forest, reading paramedical stuff to stay sharp, and doing the SAR and CARDA support things that I can online… and more knitting. The goal during these days is to charge my battery so I'm 100% going into the next cycle of chemo.
Some great news with my latest bloodwork – my neutrophils (white blood cell component that's key to my immune system function) are now higher than they have been since 2017! Yay to injections of Grastofill and Harmonic Arts Mushroom Tea! Given the stressors of COVID and Lenie and Kieran being in-person at school (albeit with some form of mask use) this is a huge relief. We're continuing with our normal COVID precautions of having the kids change out of their 'outside' clothes in the garage (they have their own baskets), lots of hand washing and wiping down high touch points. As expected my red blood cells and platelets are slightly down which means that I'm a little more tired than usual and bruise easier. No mountain biking for me right now since I will have a harder time clotting from any injury.
Mid-cycle finds me SO HUNGRY ALL THE TIME and it's hard not to immediately fill my belly with all the carbs (Arrowroot cookies and toast/cheese = best friends). We've been taking full advantage of our freezer full of yummy dishes from our friends, then supplementing them with fresh veg. It's seriously amazing to have much of the daily meal planning taken off our plate. We're looking forward to having Natasha here next week during my low period and Andy working hard on a big project they just won (yay Ecofishers!) to cook us yummy meals and provide endless hugs.
A few local friends have been sneakily dropping off fresh bread and eggs from their farm (thanks Darren!), Hungarian mushroom soup (all the way from Victoria thanks to Catherine!), Japanese meals that I've been craving (thanks Rod!), fresh homemade granola (thanks Helen!), orchids from Karina's parents' greenhouse and true Scandinavian bread from her freezer…. and so many other treats! I've also really been enjoying the fresh juices from Good Life Juice here in Nanaimo thanks to a couple of gift certificates. Last night a SAR friend dropped off a new hat and shared some very kind words from the tattoo artist that we both go to! How amazing is that?!
Daily walks in the forest continue to be key in keeping my mental and physical health positive. My RMT who also has an Ayurvedic practice says that my prime fire element is balanced by earth and water so he says that it only makes sense that I feel better both physically and mentally when walking in the forest. This of course doesn't matter to Rory and he is more than happy to accompany me on any and all walks. All this walking has been good for Andy too as he's been taking more frequent breaks from sitting at his desk to accompany me on shorter midday walks and longer meanders on weekends.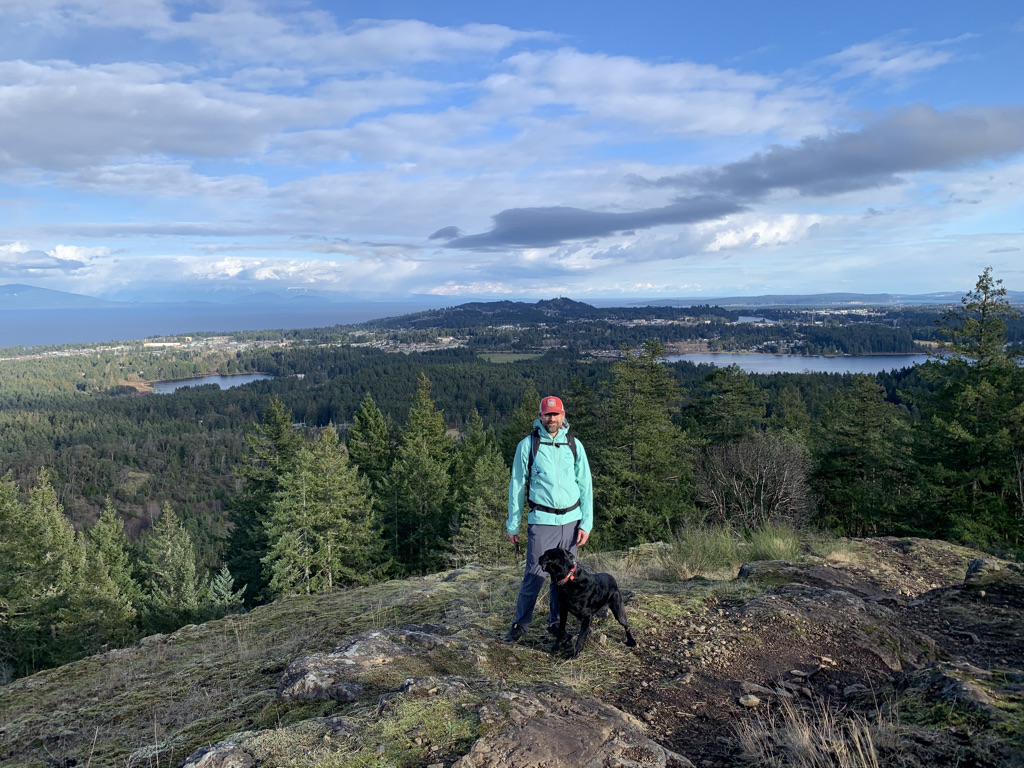 Oh and I did the final buzz cut of my hair shortly after chemo cycle #2. Woke up two days after chemo #2 to my hair falling out in clumps (think of when you grab a dog's fur and 15-20 strands come out) and it was so gross having it on my face. Called my stylist and she got me in the next day. It's now falling out more and there are bare patches at my temples so I can't imagine it'll be too long before am totally bald. I think when it grows back in (probably all grey) I'll keep it in a short pixie cut…. and wear lots of toques because WOW your head gets cold when your hair is really short! Props to all the bald men out there!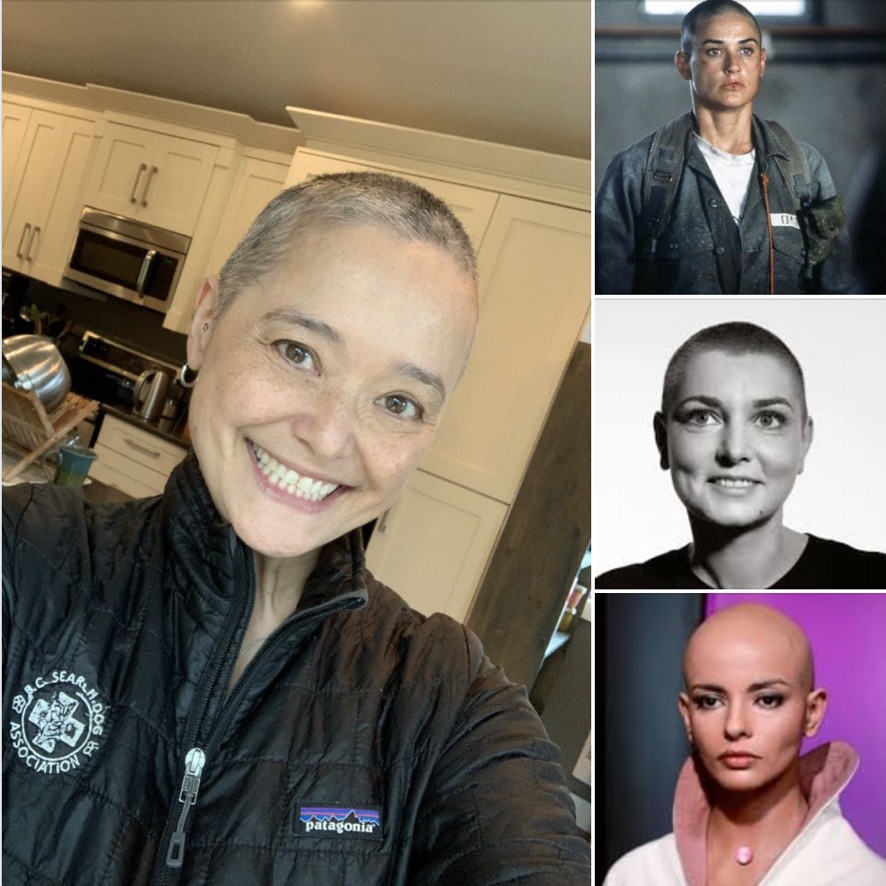 One really special thing happened recently. A really good female friend got a similar buzz cut and sent a pic to me with the caption "In support of you sista!". The act itself blew my mind at the time (there may have been tears) but the impact didn't actually hit me until a few days later. I was heading out to run errands and had a moment of hesitation on how I present in public right now. Pulled my toque down a little further as I was leaving the house. But then I literally stopped in my tracks and thought "[my friend] is walking around with a buzz cut and she doesn't have breast cancer and she likely isn't giving a shit about how people are looking at her. That's the attitude I'm going to carry forward." So thanks my friend, that was a more powerful gift than you likely realized at the time.
People are seriously so amazing. Y'all don't fail to amaze me with your acts of kindness.